The European University Professors of Ophthalmology (EUPO) is a long-time organiser of an annual course for European residents who train in ophthalmology since 1988. The EUPO Course is a structured learning experience with a faculty representing different regions of Europe, the topic of which rotates between subspecialties in a four year cycle. This allows residents to get a balanced overview of theoretical knowledge during their residency period.
The syllabus parallels the four viva voces in the European Board of Ophthalmology Diploma Examination, emphasizes what is new in the last four years, and includes case-based teaching experiences.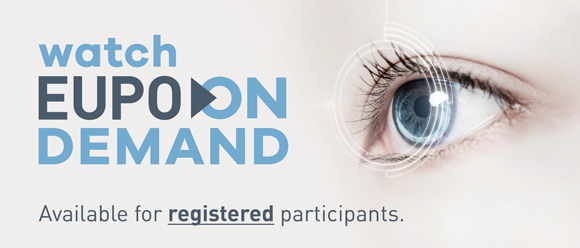 The following EUPO courses are now available to watch on-demand for those who registered for those courses.
- EUPO Course 2021
- EUPO Course 2022
- EUPO Course 2023
In order to view the course on-demand you need to:
1- be registered and
2- logged into your account.
You were not registered but would still like to follow the course on-demand?
No problem, you can still register now through your account "My Payments".
Once registered you will gain access to the course.